Lead Generation has been facing constant transformation. Old processes combined with new technologies have developed into new tools that help daily sales reps and marketers identifying more valuable leads. The future of lead generation is here and we have taken a look at 7 tools from the future.
How Did It All Start?
Back in the days, everything relied on word of mouth and door to door activities. As time passed, lead generation shifted towards newspapers, followed by radio and then TV. Today, thanks to technology, the lead generation process is mainly done through the Internet.
The past was not scalable. Every company needed an enormous number of reps to walk door to door and spread the word about their products. Even with newspaper and TV, the costs were not always accessible to everyone. If you had a small business, most likely you would opt for a local newspaper section or TV station, giving you limited reach, hence limiting your lead generation possibilities.
Nowadays, technology has enabled most businesses to reach beyond the limits previously set by location. Not only that, these new tools are now available at a fraction of the cost with a much higher success rate.
The results of lead generation shouldn't be the end goal. The lead generation process is part of an invincible sales strategy. The end goal for every organization is to create an unstoppable sales machine.
The key to successful lead generation is to connect with some specific type of audience, not as a target but with respect to their behavior.
Before diving into the tools, let's first take a look at the major technological changes that are shaping this industry.
Artificial Intelligence
The introduction of machine learning and Artificial intelligence is undoubtedly the biggest technological advancement of the 21st century. AI is helping many sales reps across several industries and will surely become the biggest revolution in lead generation and sales history.
"I'd be more worried about being replaced by another salesperson who is empowered by intelligence than by a machine."
AI In Lead Generation
It shouldn't be a surprise that AI is going to be the driving force behind the lead generation process in the next couple of years.
According to DemandBase, businesses implementing AI in their sales process get 59% better close rates for sales, 58% increase in revenue, 54% more traffic and engagement and 52% higher conversion of leads.
AI allows you to track all potential leads by getting integrated with current systems. It is currently used by many new tools that help marketers and sales reps.
Identify And Nurture Leads
Nowadays a lot of people might visit your website but only a fraction of them turn into paying customers. It becomes then important to track all visitors and identify the best prospect. This is why lead nurturing is important and AI can help businesses achieve greater results.
AI can help sales reps with lead nurturing by tracking down the best leads and further by sending each one of them, emails with customized offers and information about products and services.
AI keeps track of all the current customers and also notices other prospects.
Chatbots
Chatbots can simplify the life of many businesses and sales reps. Multiple questions (usually those in the FAQ section) by multiple prospects can be answered at the same time, letting sales reps and marketers focus on negotiation. Those bots translate these conversations into data, that can be extremely useful for future conversations. With chatbots in place, businesses can gather an enormous amount of data compared to a few years back. This can then be funneled into a spreadsheet for further analysis.
Faster Customer Support
Businesses of any size can use AI for better and faster customer support. Artificial Intelligence has the capability to respond to most questions related to products and services.
AI can also tackle predictable queries and issues users could face while using your service. With artificial intelligence, a business can be saved from the pain of appointing highly trained executives to answer basic users questions and on the other, be able to keep customer service active over the clock.
Lastly, a faster solution to problems will help the business create a long-lasting relationship and trust by users.
The Future Of Lead Generation
The technological development can deliver unimaginably results and help businesses locate, nurture and convert potential leads into paying customers. Here below 7 tools that are shaping the way lead generation is and will be done in the future.
Growlabs
Growlabs uses machine learning to facilitate outbound sales teams in the prospecting phase. With Growlabs sales team can specify the type of business and contacts they want to target and the platform automatically generates leads, start sending emails and vet first responses.
Growlabs combines machine learning with over 350 million prospects to target the right leads for your business. The tool then automatically collect information on how the team interacts with the prospects, suggesting the best time to reach out and follow-ups.
Aeroleads
Aeroleads is a next-gen and extremely intelligent data mining tool. The tool can help you generate prospects for in Google, Yahoo local, LinkedIn, CrunchBase, among others.
The first step to start using AeroLeads is to add its Google Chrome extension. The software has been developed to generate a list of leads that match your requirements set in advance.
It delivers a list of the most relevant leads latest after 2 days after filling in the requirements form. A very important feature to bring up is the integration with Salesforce, Zapier, HubSpot, MailChimp, Pipedrive, Insightly.
Growbots
Growbots is another great tool for lead generation. It combines AI and machine learning to facilitate the process and proves to be a great fit for outbound sales teams.
The tool automatically generates details of the best contacts available in the market based on the research provided. Growbots has an API integration with Salesforce and supports other CRMs through CSV files upload.
All this becomes possible only thanks to its unique AI algorithm.
Conversica
Conversica has developed an artificial intelligence system thought to automate the first contacts with leads to validate their value and then give it to a human salesperson.
The AI-powered sales assistant is responsible for contacting those who expressed initial interests in the company. The interest is defined as white papers download, badges scan at conferences, or simply a request for more information on the company website. The contact information is then placed into the sales funnel where the process begins. The names are loaded in a list and salespersons are assigned to them.
Leadfeeder
Leadfeeder uses Google Analytics data to collect information on companies visiting a company website. The tool connects quite smoothly with your CRM and marketing systems, which means that the leads are passed automatically into these systems and are ready to be reached out.
Thanks to its technology, a business is not only able to see the company name but also track whatever they visited on your website, giving your sales people an easier way to approach the prospect.
Bitrix24 [updated]
Bitrix24 is presented as a free collaboration suite of over 35 tools. The combination of different apps, allow your whole company to be connected and experience one unified approach to each system (HR, CRM, Lead Gen, Email Marketing, Customer support, among others).
Bitrix24 is available as a SaaS or on-premise, depending on the company needs. If your company is actually not that big (up to 12 users) most of the features come for free. The application of this tool is by no means limited to the lead generation process, as it has as the main aim to connect the whole company and reduce your hassle in finding different apps for every single department.
Hubspot [updated]
Hubspot is another great tool that combines different activities to facilitate usage within the company. The claim is to be a full stack of software for marketing, sales, and customer success, with a free CRM available. Not to bad at all.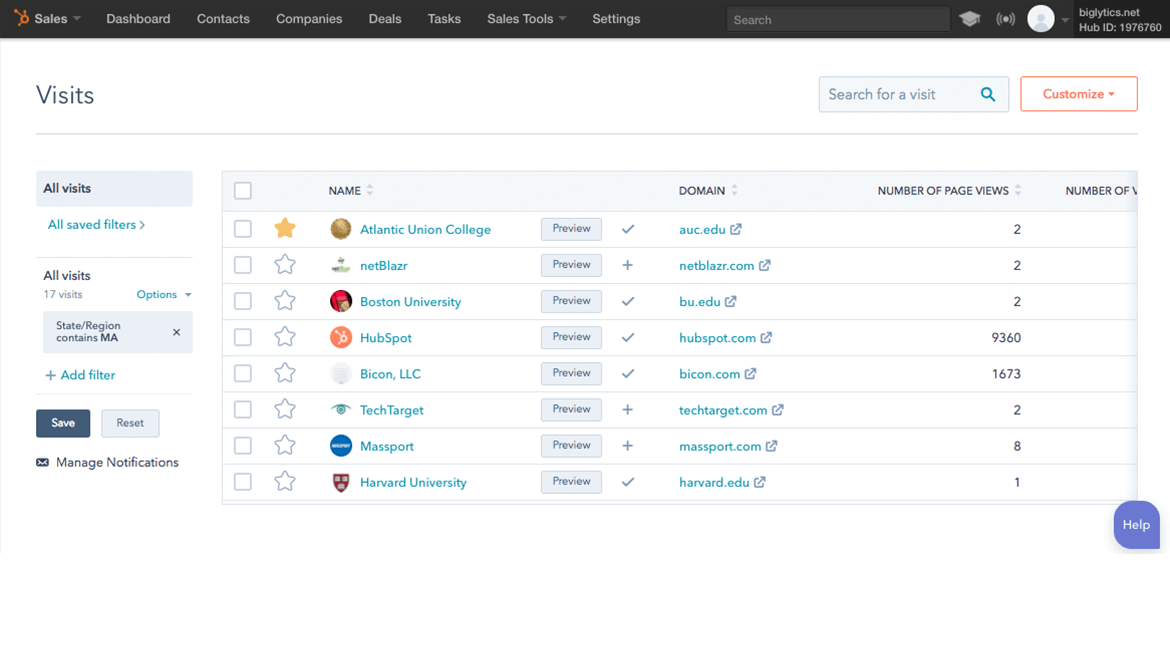 Hubspot offers a wide variety of tools that are very simple to implement. The ultimate goal? Turn that website visitor into a lead and then give it to the sales team to close the deal much faster than usual. All this powered by AI tech to track in real-time your website usage.
Prospect.io
Prospect.io is a Sales Automation Platform that automatically finds and verifies prospects' email address. Once the list of prospects is created, you can also contact them with the automated campaign setting or schedule it for later.
Snov.io
Snov.io is a platform that allows automation for your cold outreach. It helps startups find, validate and send emails to prospects for better conversion rate. The tool has different advantages, some of which are: domain email search to easily collect prospects' emails; an email verifier; the possibility to send email drip campaigns; and lastly a Gmail integrated tracker.
Esalesclub
Esalesclub collates its data from various online and offline sources that are trustable and secure. It provides geo-targeted email and mailing lists to maximize business reach. The lists are dual- verified by Artificial Intelligence modes and by Data Experts to provide error-free, reachable prospects lists. 
EsalesClub is a great partner for geo-marketing activities, as it provides you with data from across 60 countries all around the world. It also offers various marketing services that will aid you in strategizing and executing campaigns. The lists are delivered instantly in convenient formats that can easily be integrated into your CRM and used for email campaigns. 
Conclusion
As noise increase online, lead generation tools will become more and more important for every business. Understanding what your business needs are and which tools satisfy these is not an easy task. Try out and see what works the best for you, don't commit in advance.
Do you know any other tools that are shaping the future of lead generation? Share your suggestions with us in the comment section below.