Startup founders face constantly the decision of whether to invest or not in certain tools, be it for sales, product or marketing. In the early days of any startup, free tools, and growth hacking techniques are highly regarded by startup founders. Growing business with minimal investment looks appealing to the most, however, with so many tools available the decision can be a tough one. Startup growth hacking was for a period of time so "famous" that we could see more hackers in marketing teams than elsewhere. Things now have changed slightly, but growth remains at the basis of all startups needs.
The list here below is focused mainly on marketing and content creation activities.
Keyword Research
Content marketing is becoming every day more relevant for any type of business. Understanding how to communicate and connect at an emotional level with the desired audience is crucial to growth. Triggering interest for purchase and generating leads for the sales team to follow up are the most important factors in a well-planned content marketing. Researching keywords by topics of interest is what makes any startup content marketing strategy significant for success.
Google Keyword Planner
Google is the go-to-place for most (if not all) marketers. Without double-checking on Google how well specific keywords are doing, the part of content marketing focused on keyword strategy is lost.
This free tool, among many others provided by Google, helps marketers identifying the right keyword to talk about as well as popularity, creating a combination of keywords usable in different content pieces.
Google Correlate
In the list of the top free keywords research tools, Google takes the podium without any doubt by providing yet another free tools for marketers. Google Correlate is often overlooked but can help marketers create a large keywords list.
The way it works is very simple. Google Correlate will show you what are other words that are searched together with the keyword you are looking for. Understanding this additional piece of information, marketers can easily differentiate and increase the number of keywords to work on.
UberSuggest
If you rely heavily on Google Keyword Planner, then you will want for sure to check out UberSuggest. It is an additional growth tool to the usual Google Keyword Planner. It basically suggests keywords outside of the Google Search Engine, giving you a wider option for keywords to use.
A great feature of this free tool is that you can have next to the keyword of interest, just a letter, and the tool will automatically suggest a series of words associated with that letter.
KeywordTool.io
Long-tail keywords have been regarded by many as the main strategy for small businesses and startups. Competing on major keywords can be very difficult and expensive. Therefore, understanding which long-tail keywords are working for the desired audience is crucial to attracting new users through engaging content.
KeywordTool.io generates a series of keywords through Google Autocomplete, which takes into consideration several factors, among which keywords popularity.
Soovle
Sometimes marketers rely on Google Autocomplete to get some additional ideas for keywords or topics to write about. If you have ever done so, Soovle will be a definitive step up in your research process. This free keyword research tools combined different sources for autocomplete suggestions. The suggestions are not always the most sophisticated ones, but without doubts, marketers will get new suggestions to use for their growth strategy.
Keyword In
This is by far the simplest keyword tool available online for marketers. Literally, any person looking to combine a group of words into actionable keywords usable for content marketing can easily use Keyword In. Because it's a tool that "simply combines" all the words you input, the results might not always match expectations. For this reason, it is good practice to reiterate the research few times.
Answer the Public
This tool is one of the newest free resources available for marketers. It's relatively straightforward tool and provides results for any keyword research in a visual way. The list includes questions associated with the specific keyword searched, as well as prepositions, comparison, and other associated long tail keywords.
Content Ideation
When looking at marketing growth, content creation comes straight after keywords planning. After an in-depth analysis of keywords with the tools above mentioned, you can now look into content ideas and creation. The content itself is going to be the essence of your growth marketing strategy.
BuzzSumo
BuzzSumo is THE tool that will help you finding trending topic across categories and industries. It is extremely simple and intuitive. Using BuzzSumo will give you an idea of what topics work best based on social engagements. There is both a free and a paid version, the paid one is a very strong solution, but the free one does its job in helping many marketers out.
Reddit
With its "old" look, Reddit is still extremely relevant for content creation. Marketers can easily look for subreddits of interest and check immediately what's trending. This "tool", however, only gives you an idea of what's happening within Reddit, rather than the whole web, so you need to be careful when picking up the right topic. Having said that, Reddit has a massive user base, so if it is trending on it, there's a very good chance that the topic is indeed interesting.
Quora
This is the ultimate Q&A website. It is possible to find all type of questions, divided into categories. Thanks to its structure, anyone can find easily what are the most researched questions with the highest number of interactions by its community. The great thing about Quora is that marketers can search by keywords, finding questions by the niche of interest. In this way, you can have both trending topics and great answers from which to create content.
FaqFox
This is a free online market research tool that can also help marketers understanding topics popularity. After entering a topic or keyword, you can either enter websites to scrape or choose from a selection of popular content areas (for example, business, marketing, tech…). This will result in a list of answers your prospective audience is searching for.
AllTop
AllTop aggregates the best websites online. Everything is divided by category to make it simple for the users to find whatever they are looking for. The dashboard is also very easy to navigate, you can find top blogs in specific industries with their latest 5 blog entries. This is without any doubt, an endless source of content ideas for all marketers.
Planning & Collaboration
When planning content creation is crucial to also understand the timing with which everything is scheduled and how your marketing strategy will benefit from it. With the following tools, you will be able to get a wider idea of planning content as well as enabling a stronger collaboration among teams or team members.
Trello
Trello is a free online project management tool. It uses boards and cards as a visual way to present tasks and organize them. Creating a Trello board for your marketing calendar is a simple visual way to assign, organize and store content.You need to move content from card to card to note its status, such as published, pending, in creation, among others.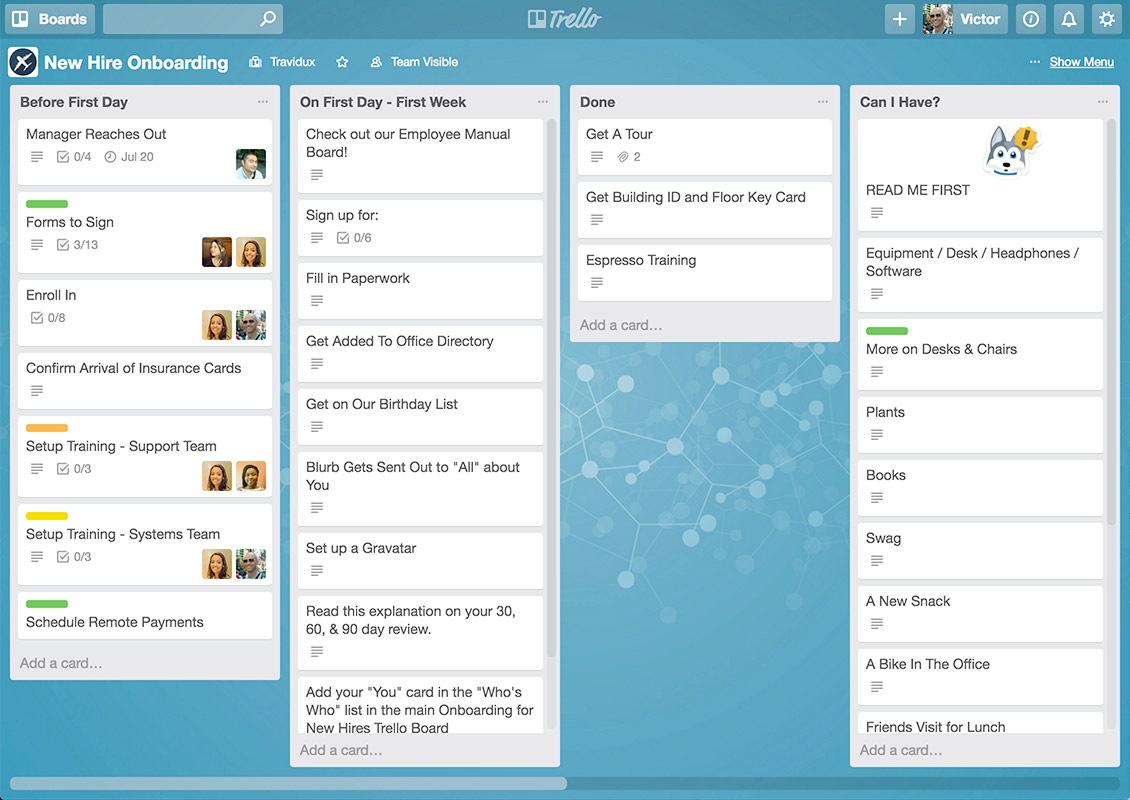 Google Apps
Calendar and GDocs are two of the most used tools across different industries and professions. The calendar function that Google offers in its suite of products has a wide variety of templates to use and simplify workflow planning. You have also the ability to create separate calendars, such as one specific for "Marketing" to track activities and plan a team effort.
Slack
This is a popular and well-designed platform offering instant messaging, file transfers and powerful message search. A little bit like Skype, but with better functionalities and widely adopted for company internal communication. The great thing is that it has many features and dozens of integrations with other tools like Trello.
Asana
Asana is another powerful project management tool, similar to Trello. It allows users to assign tasks to other members, add followers to projects and keep an eye on deadlines. It is used by many companies to track project flows and strategic planning.
Distribution And Amplification
Content planning and creation are just two steps of a more complex strategy to reach the desired audience. Today with an overflow of information and content online, you not only compete with tons of similar material but on several different platforms. On top of that, you compete with pretty much everyone trying to have a presence online, be it solopreneurs or huge corporations with great capital resources.
Content creation should be around 20% of the time you spend on this task. The rest should be devoted to amplification, i.e. reaching every possible corner of the web to be in front of your desired audience.
Buffer
This is a tool to help marketers scheduling their social media activities. It allows to pre-schedule posts for different social media accounts, such as Facebook, Twitter, Pinterest, and also Instagram. It helps you also by re-posting old content (or "re-buffering" it). Despite being a great and easy tool to use, the important factor here is that you should have an already established and engaged social media following.
Hootsuite
This is a tool similar to Buffer. It helps you schedule social posts in advance. The interesting thing is that through Hootsuite, you can also evaluate who is clicking on what and can help you create simple contents among your followers.
OnePress Social Locker
This is a bit of a controversial way to increase social engagement and amplify reach. With this WordPress plugin, you basically force users to share your content before unlocking the content on your website. Depending on the popularity of your website, this might work, however, if you are not there yet, or your content is not so popular, you might annoy a potential reader.
MailChimp
Email marketing is the easiest way to distribute your content to your current readership and potentially gain some extra amplification. Being focused on distribution, MailChimp doesn't necessarily help you in gaining new users, but thanks to few interesting features, you can plan most of your email marketing effort.
These are only free tools that we considered interesting for startup growth hacking. Marketers might find one tool to be more useful than others, or if your company is big enough, prefer a paid tool or version rather a free one.
Do you have any tool that you prefer the most when planning your startup growth? Any additional tools we might have forgotten? Share your thoughts in our comment section below.